We showcase your property's best features, such as that beautiful oak tree in the center of your lawn, through a lighting system from our top-notch designers. Your personalized design incorporates a variety of lighting styles to specifically complement your home's interior or landscape. The services we offer include:
We select fixtures that create the perfect balance and effect for your home's interior or landscape.
Our team of electricians and landscapers install your custom lighting solution quickly and professionally, and a clean-up crew will give your grounds a manicured look.
A maintenance contract protects the integrity of your lighting system through regularly scheduled visits.
Maximize the security features of your lighting system with a back-up generator that turns on automatically during a power failure.
Lighting Design
Your lighting project starts with an on-site design consultation. We'll view your property together, identifying areas that need illumination and features you'd like to accent. As you share your ideas, we'll recommend options to make them work. This collaborative exchange is the basis for the customized design we'll present at the end of the meeting.
A design consultation agenda includes plenty of time to cover whatever's important to you. Ask us anything about your project or lighting in general; we love talking about our greatest passion!
Lighting Design Considerations
Function.
We choose lights that match your needs, from safety and security to atmosphere and appearance.
Style.
We use a variety of lighting techniques to create a balanced, multidimensional effect that enhances your property's visual appeal.
Location.
We place fixtures so they blend into the surroundings while drawing attention to the lighted area.
Sustainability.
Our energy-efficient designs (link to Sustainability Commitment) reduce costs and minimize environmental impact.
Fast, Efficient Installation
As soon as you give the word, we'll get started! You'll be amazed at how fast and easy we'll make your project—we complete installations 75% faster than our competitors. Most projects are completed within one day!
Fast, First-Rate Installation
It starts with strong design.
We'll place markers on your property showing precisely where each fixture will be installed, and create a detailed diagram numbering every light used (We will provide the diagram to you post-installation).
Thorough preparation maximizes efficiency.
Our team preassembles and pre-wires every item to be installed at our Stamford, CT facility. This approach means our installation team makes the best use of time spent on-site.
Your team combines the right skills for the job.
Electricians and landscapers work together to seamlessly implement and test your lighting system while leaving your property pristine. We guarantee we'll leave your property as attractive and well-kept as we found it—our goal is to make it look even better.
Landscape Lighting
Your property's natural beauty drives our lighting design. Using fixtures that blend into the surroundings keeps focus on the area being illuminated.
Designing lighting in harmony with location also protects the environment. We consider how fixtures will integrate with your plants and use enough cabling to allow them to be moved as your landscape changes. As part of our diligent clean up, one of our landscapers will give your site a clean bill of health.
Landscape Lighting Considerations
Visual appeal.
Illuminating your garden, trees, walkways and outdoor statuary transforms your property's night-time appearance.
Security.
Well-lit grounds provide safe passage for you, your family and your visitors.
Functionality.
Lighted areas offer new ways to enjoy your environment after dark.
Indoor Lighting
Lighting effects in your home should work together to make the atmosphere inviting. We'll choose the right fixtures to draw attention to your art or family photos, or make your rooms more welcoming for you and your guests.
While we're installing the new fixtures, we protect every aspect of your home. We remove furniture from the installation area and cover art and draperies with plastic sheeting. Our employees use jewelers' tools to prevent damage to interior spaces that have already been finished, and patching clean up is part of every installation.
After the installation is completed, we clean up all materials and replace everything that's been moved, restoring your home to the condition we found it.
Generator Installation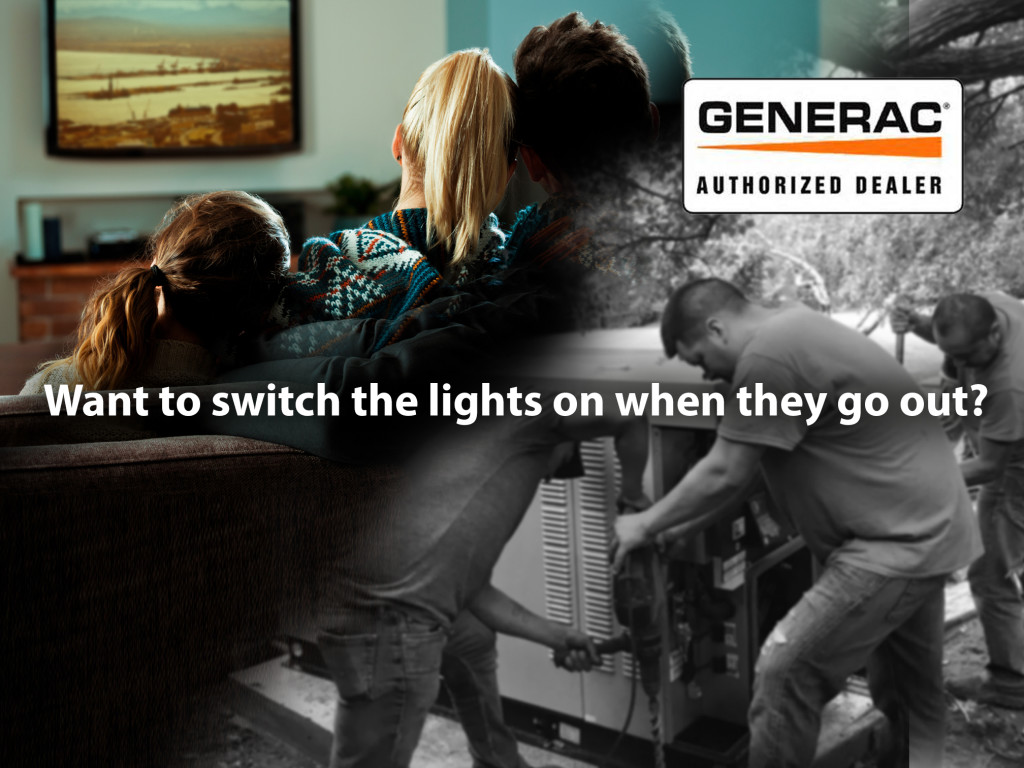 Generator Installation
We'll install a propane-fueled generator that automatically takes over when your home loses power. A generator not only keeps your newly installed lighting looking beautiful during an electrical failure, it can protect you from costly home repairs. A generator keeps the heat on, preventing frozen pipes, and powers your sump pump, keeping water out of your basement.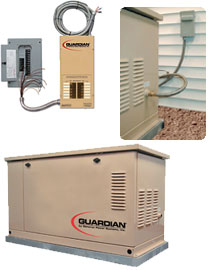 Installing a generator requires coordinating work from several different vendors: electrician, plumber, landscaper, mason and propane company. We manage every aspect of the project, scheduling all work and inspections, creating a seamless insta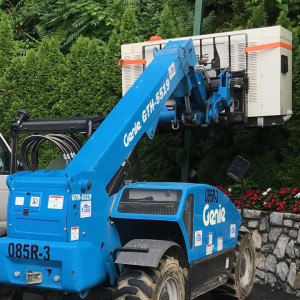 llation.
Certified Generac Dealer
While we will install any generator you purchase, we recommend Gener
ac products. The industry leader for over 50 years, Generac manufactures the widest range of power products on the market. We've found their products to be the most reliable and to offer the most comprehensive service warranties, and we share Generac's commitment to environmental responsibility. As a certified Generac dealer, you can be assured that we've demonstrated a commitment to superior sales and service that's been recognized by the industry's leading manufacturer of residential and commercial generators.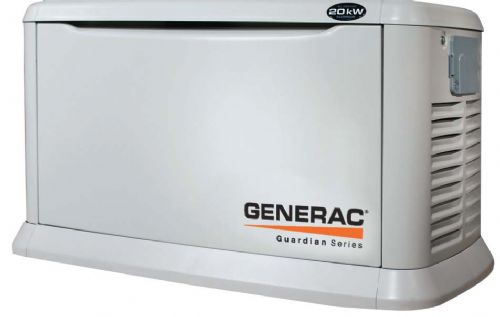 ---
Service
Lighting Maintenance Contracts
A maintenance contract protects the integrity of your home's lighting design through regular service. We'll replace bulbs as needed, keep fixtures clean and replace parts when necessary.
An annual maintenance contract includes two to four annual service visits.