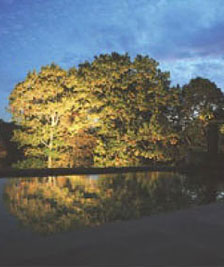 Design Lighting by Marks provides lighting design that create a warm, inviting ambience. Our talented, knowledgeable team offers a full range of services including lighting design, landscape lighting and maintenance and generator installation.
We've completed thousands of lighting projects over the past 40 years. Our innovative approach and exceptional service give clients confidence that they're in good hands.
Innovative Approach
We pioneered a unique approach to rapid installation: our employees preassemble lighting systems at our facility. Most projects are completed within a day. We apply the same creativity to achieve a soft, understated, elegant effect on any budget.
Exceptional Service
We're committed to providing every client the best possible service in each interaction. One of our expert designers will spend lots of time during an initial project consultation viewing the property with you to make sure we fully understand your needs. If our recommendation exceeds your budget, we'll explore different options and answer every question to your complete satisfaction.
We'll make your installation as seamless as possible to minimize disruption to your schedule. You can expect the same professionalism and courtesy from all of our employees, from taking off their shoes before entering your house to removing every trace of materials. Our clean-up crew's landscapers will leave your property looking as good or better than we found it.
Associates
Mark Mosello, Lead Designer
Mark Mosello followed in his beloved uncle's footsteps in choosing a career as an electrician. He quickly established his own business, beginning in 1968 with the purchase of an old milk truck and the determination to "never walk away from a job." Mark found his specialty while working for a customer in Scarsdale, where he suggested lighting a magnificent tree so that it would look as beautiful at night as it did in the day. The client was skeptical, so Mark struck a bargain: He would install the lights permanently so the client could view the effect with the understanding that if the client didn't like it, he'd remove it. The customer was delighted with the effect, and soon, other people who noticed the tree's lighting began seeking Mark to design landscape lighting for their homes. Mark hired an ad agency to promote his innovative new business to homeowners and businesses throughout the tri-state area. The late 1970s campaign featured a series of ads promoting the theme "Lighting for the '80s".
Our business clients include:
Flattery
We've designed breathtaking lighting effects for thousands of clients over the past 40 years. Read what they have to say about our work.
"Great job—you did it in one day!" —Edward
"The new lights look terrific. I really like how we've lit up the tops of the tall trees in the back." —Richard
"Kevin and the guys did a great job! The room looks fantastic! You're lucky to have such quick, clean workers. Thanks for all the extras!" —Sherry
"I wanted to take a minute to thank you yet again for an excellent job up at the house. Lights for the garage, posts, etc. worked out just as we wanted. The trees down by the pond look beautiful. We rarely say 'that was easy, what shall we do next?' after working with a contractor, but that's how we feel about our experience with Design Lighting by Marks." —Roderick
"Thanks for doing such an exquisite job. We know it wasn't easy, but you made a difficult job look simple. We truly appreciate all the efforts performed by you and your team. Thank you again for making our property look so amazing." —Joe
"I want to express how impressed I am with your firm's speed, professionalism and quality of work." —David
"The lights look great. They are the talk of the neighborhood! Your team did a good, clean job of installing." —Eric
"Once again, you have created a masterful lighting landscape for our home. We are thrilled with the results. The seamless connection between the "old" and "new" lights is remarkable. It's as if you gave the house a surgical facelift; nobody will be able to tell what was done, but they'll notice the brilliant improvement!"—Mark
"I wanted to let you know that all's well after Hurricane Irene thanks to the generator you installed last February. We lost power at 1:30 a.m. Saturday night. I was sleeping like a baby, knowing the generator was ready. When the power went out, my son let me know the generator had kicked in. I thanked him for waking me up, then rolled over and went back to sleep. We went with the smaller 20KW air-cooled unit you recommended. It ran all our appliances without any problems; plus, we were able to watch TV and use the Internet, cook, do laundry and use lighting as needed throughout the outage. The only thing I regret is not installing it five years ago." —Pete
"Your crew installed the outdoor lighting system at my house yesterday. Being in the retail business, I'm very aware of what it takes to provide high-quality customer service. You and your organization provided the highest standard of service I have ever seen. Your installation crew (all 15 of them) showed up on time and were neat, extremely courteous and unquestionable knowledgeable. It's incredible that, 48 hours after I told you to go ahead, the job was completed. Selecting an outdoor lighting system provider is a matter of choosing the firm you trust will do the right job. The bottom line is that the consumer has to believe the provider will achieve the look they are hoping for. You made the purchase easy, but more importantly, you delivered an unbelievable result—painlessly. We are thrilled with our new lighting system." —Alan